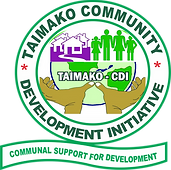 The goal of Taimako-CDI is to contribute in saving lives and improving the living standard of conflict affected people through effected and evidenced base programs; partnership and collaboration, advocacy, community mobilization, capacity building.
Job Type: Full Time
Qualification: BA/BSc/HND
Experience: 5 years
Location: Yobe
Job Field: NGO/Non-Profit 
Introduction
Taimako Community Development Initiative (TCDI) is a non-profit, non-ethnic, non-political and non-religious organization, whose major objectives is improving rural and urban communities through developmental and self –help driven programmes, initiatives and activities. The organization has functional and equipped Offices in Bauchi, Borno and Yobe States, North-East, Nigeria.
TCDI is looking for a reputable firm to supply the following items;
Project vehicle
Laptops
Printers
TCDI is currently in the process of prequalifying contracting firms with substantial presence and extensive experience within Northeast Nigeria, for the supply of packages based on the major components mentioned above. The contracting firms will be working under the direction of the TCDI field team and supervised by a technical team consisting of senior members from any of these agencies
Qualifications:
Reputable corporate international/national organizations with 5 years of experience in some or all of the above activities.
Proven track record with presence and extensive experience within Northeast Nigeria,
Good track record on the supply, delivery, and construction of the above contract packages;
Strong interpersonal and communication skills for reporting and negotiating with relevant authorities;
The institutional contractors must provide TCDI with: A certificate of Incorporation/ documentation as a registered company or institution; evidence of similar works and undertakings, evidence of the availability of qualified personnel, and evidence of ability to mobilize qualified personnel.
Ability to mobilize international expertise to Nigeria
This EOI does not constitute a solicitation. We do not require bids or proposals at this stage; we merely seek your expression of interest in participating in the tender. A response to this Request for Expression of Interest does not automatically ensure that you will be selected to participate in the tender.
Taimako-CDI reserves the right to change or cancel the requirement at any time during the EOI and/or solicitation process. Taimako-CDI also reserves the right to require compliance with additional conditions as and when issuing the final tender document.
If additional clarification is required, please send your query to TCDI e-mail: [email protected], CC: [email protected]. & [email protected]
Kindly note that suppliers and contractors interested in providing commodities and services to TCDI should register in UNGM at Basic and Level 1 levels of registration: https://www.ungm.org/Account/Registration Please note the following:
Suppliers are not charged to register in UNGM.
TCDI does not contract with suppliers who are non-compliant with the Nigerian Laws and Regulations and with those who do not abide to ethical standards related to child labour and landmines. Upon registration in UNGM and notification of the same to the relevant Taimako official by the supplier, TCDI officials may visit the premises of the supplier.
Method of Application
SUBMISSION OF EXPRESSION OF INTEREST (EOI)
Response to EOIs should be sent to TCDI e-mail: [email protected], CC: [email protected], [email protected], [email protected]; no later than Tuesday 16th of December, 2022 closure of business. Please quote TCDI/EOI/BMZ/P4380/001/22] as a subject in your correspondence and clearly express your interest in either of the contract packages you wish to apply for. Or submit the hard copy to the TCDI's Office at Bukar Abba Ibrahim Way, No. 1 2nd Floor Kagum Plaza Opposite, Governo's Office, Damaturu, Yobe State.